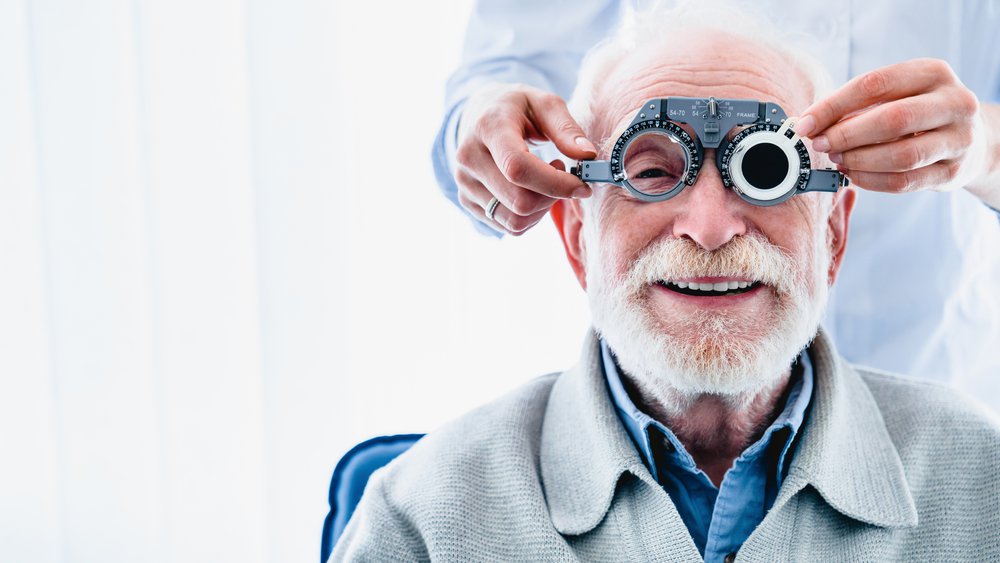 Did you know that cataracts, or a clouding of the eye's lens, are the leading cause of blindness around the world(opens in a new tab)?
In honor of Cataract Awareness Month(opens in a new tab), we wanted to provide our patients with some tips on how to reduce the risk of developing cataracts. Cataracts develop as a natural part of the aging process—if you were to live forever, you would eventually develop cataracts no matter how hard you tried to avoid them.
While it may be impossible to fully prevent cataracts, there are still steps you can take to reduce your risk of needing cataract surgery or delay their development. Here are four tips on slowing the development of cataracts:
Accessorize With Shades
One of the best parts of summer is enjoying the sunshine and the great outdoors. However, as the summer sun shines down, it's important to protect yourself from its harmful rays. You've probably gotten a sunburn before and learned an important lesson about sunscreen, but do you make sure to always wear sunglasses, as well?
Like sunblock, sunglasses help to block out ultraviolet (UV) light, which can damage the proteins in your lens and speed the development of cataracts. When shopping for sunglasses, it's important to find a pair that is not only stylish but also blocks out 99% to 100% of UVA and UVB rays. Then, make sure to wear them every time you go outside, even on cloudy days.
It's also worth keeping in mind that people at higher altitudes are more susceptible to UV damage. In fact, for every thousand feet of elevation above sea level, there is a 6 - 10% increase in UV exposure. The city of Pittsburgh is about 1,223 feet above sea level, meaning residents of the city and those in the surrounding areas are at an increased risk of developing cataracts.
By wearing your favorite, most fashionable sunglasses, you can help keep your eyes healthy, prevent cataracts, and look cool while doing it!
Eat Your Fruits & Veggies
We all know that we're supposed to eat our fruits and vegetables for our health, but did you know that they can also help with your eye health and delay cataracts?
Certain vitamins and antioxidants found in these healthy foods have been shown to reduce the risk of developing cataracts, especially those with vitamins C and E. So, what foods can you eat to get these important nutrients? Some great options include:
Citrus fruits, like oranges, grapefruit, lemons, and limes
Berries like strawberries and raspberries
Summertime classics like pineapple, watermelon, guava, mango, and papaya
Green vegetables like broccoli, cabbage, celery, asparagus, and brussels sprouts
Other favorites like tomatoes, pumpkin, pomegranate, kiwi, and avocado

The next time you're at the grocery store, make sure to stock up on these healthy foods to help keep your eyesight sharp!
Make Lifestyle Changes
Just like how we all know to eat our fruits and veggies, we also know that smoking and drinking are dangerous for our health. When it comes to your eyes, these habits not only contribute to cataracts but many other eye problems, as well.
Cigarette smoke contains harmful toxins and creates cell-harming 'free radicals' in your eyes. This would be bad enough on its own, but in addition, smoking will kill off any antioxidants you got through fruits and vegetables, leaving your eyes defenseless.
Luckily, quitting smoking has been shown to greatly reduce a person's risk of developing cataracts. In other words, though it's better to never start smoking in the first place, even lifelong smokers can reduce their risk by quitting.
Alcohol consumption, on the other hand, is a little less cut-and-dry. It's undeniable that heavy or daily alcohol consumption can dramatically increase a person's risk of cataract surgery(opens in a new tab) and other signs of aging eyes, as multiple studies have shown.
However, a recent study also showed that those who drink red wine 1-4 times a week had a 14% lower risk of needing to undergo cataract surgery than those who abstained from alcohol altogether. This is believed to be because of the antioxidants present in grapes, especially those used to make red wine.
So, if you're looking to prevent cataracts, it's best to avoid smoking and heavy drinking. However, a moderate amount of wine each week is okay!
Stay In Touch With Your Doctors
People with diabetes or high blood pressure, as well as those who are obese, are at an increased risk of developing cataracts. For that reason, if you're affected by any of these conditions, it's important to work with your primary care provider to manage your health and keep your risk as low as possible.
It's not only your PCP who you should be in regular contact with, however; your eye doctor is your first line of defense against cataracts! Schedule annual eye exams with the ophthalmology experts at Everett & Hurite, and don't hesitate to bring up any changes or concerns you have about your vision. That way, you and your eye doctor can catch any problems early on and take steps to prevent further damage. If you've already developed cataracts and are seeking treatment, our cataract doctors near you can help with that, as well!
The best ways to avoid vision problems like cataracts are to take good care of your eyes and overall health and to schedule regular appointments with both your primary care provider and your ophthalmologist. By doing so, you can keep an eye on any changes in your health that could put you at risk and get treatment, if necessary. So don't wait - take time today to schedule your next appointment!
If you haven't had your annual eye exam yet, take the opportunity to schedule a visit with us today! Whether you're trying to prevent cataracts or seeking cataract treatment, get in touch with the experts at Everett & Hurite by scheduling an appointment online at one of our 10 locations, or calling us at (412) 288-0858.